Below, we've written a brief guide about what you need to know about social media marketing in order to promote your on or offline business.  No matter what industry sector you're involved in, or what size your business, using social media is essential when it comes to building brand awareness.  However, if you're unsure what it is and how to use it – it can be daunting. Don't worry, this piece is short and understandable.  Let's move on and find out how social media can really increase your visibility online as well as turn your customers into paying customers.
First, do you know what social media marketing is?
Get to Grips With Social Media Marketing
We've listed what social media marketing means, keeping it brief and to the point for ease:
Social media marketing is all about your activity on social media networks related to business, such as posts, commentary, campaigns, advertising, live videos, competitions, special offers, shopping, engaging with your audience and more.
It's very much about networking within your sector to build an audience and engage directly with them.
Through social media marketing, you can grow your own community online and in doing so, build brand awareness.
Those are the nuts and bolts of social media marketing.  Remember, social media constantly evolves and with every change, new features become available.  Try and stay ahead of trends so if something appears that's useful, you can add it to your mix.
What Are the Different Social Media Platforms?
There are many different social media platforms available, and each has their own audience (although there will always be crossover). As a word of advice, choose the social media platforms that attract your audience.  Here's a quick overview of each to help.
With more than 2 billion users and attracting a Gen X and Millennial audience, this is an excellent platform for most business to consumer companies.  There are plenty of exciting features that you can use, such as the shopping channel, the insights, advertising, and other ways to monetize your activity.
This is a relatively new platform that's good for a young audience of around 16 to 25 although there are plenty of older people who use the network.  It's all about short video to get messages across and there's lots of opportunity for B2B ad B2C businesses, especially as the platform has over 1 billion users.
One of the biggest platforms with over 1 billion active users, this is suitable for you if you have a very visual business as it favors images and video.  It also has an abundance of brilliant features such as advertising, shopping, emojis, stickers, filters, insights, live video, and the ability to monetize your content.  It's favored by Millennials and Gen Z.
More than 200 million users Tweet daily and it's great for businesses as many have adopted it as their customer services channel.  Ideal for both B2B and B2C, keep it brief though, Twitter is all about short messages and is more text-based than video and image based (although it's recently introduced Stories).  Good for Millennials, it's also slightly skewed male.
This is a professional network that's ideal for B2B as it's mainly about careers, networking in a business sense and those looking for business users.  It's audience is wide reaching and almost 800 million users access it every day.
A networking platform, a search engine and the second most visited website, YouTube is for you if you have a Millennial audience, and you want to use the power of video to reach your customers.  You can use it for instructions, behind-the-scenes, business news and more.  With over 300 million active users, it's a worthy channel to investigate.
This is a younger platform that's ideal if your audience is Gen Z.  It's also only really beneficial for business to consumer content.  However, with over 300 million users, if your audience skews towards the younger generation, they're on this platform!
For a Baby Boomer audience, try Pinterest, especially if you have a mainly female audience as this one skews female.  It's a pinboard social media platform where people create virtual pinboards and add things they're interested in.  With more than 445 million users, if you're looking for Baby Boomers, this one's for you!
Reasons Why Social Media Marketing Will Work For You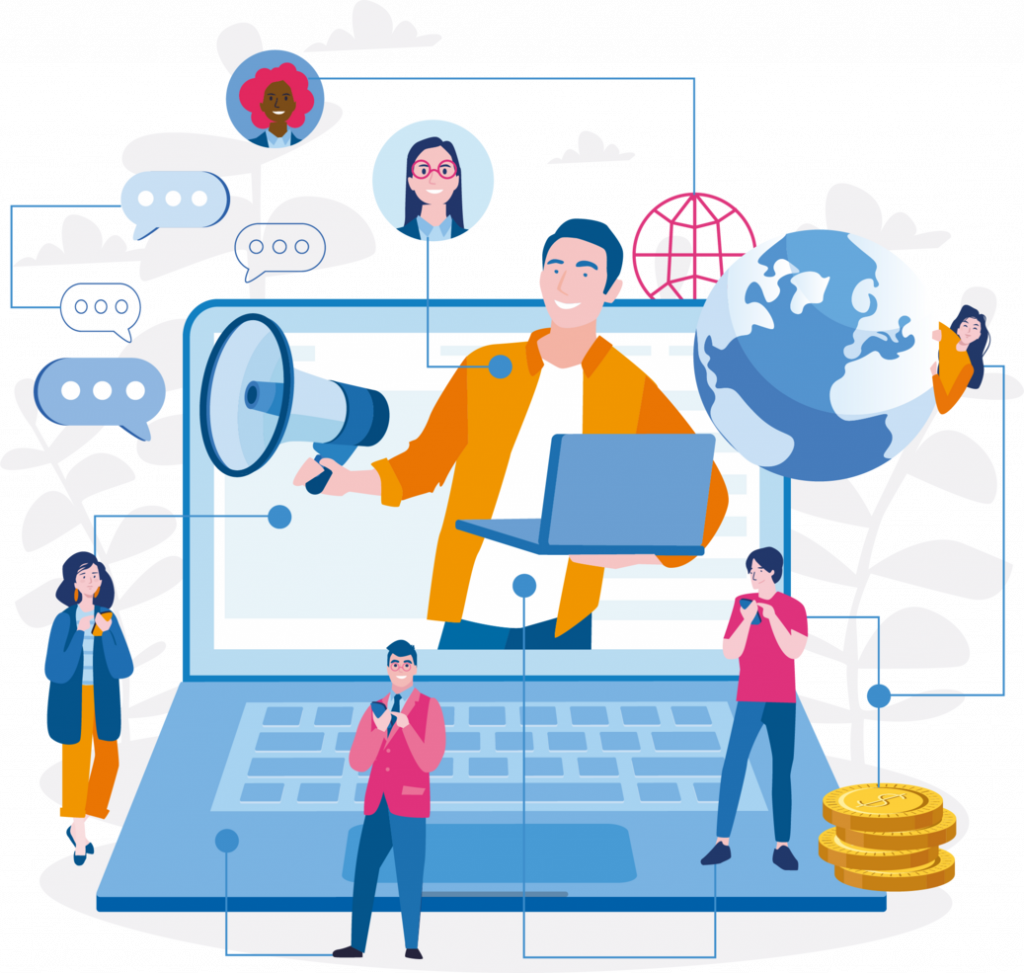 Still not convinced.  Here are some reasons why social media will help your business to grow:
Social media drives better brand awareness.
It enables you to reach so many more prospective customers.
You can convert those prospects into paying customers.
You can build your very own community and develop relationships with your audience.
You can learn about your audience using the insights tools available.
Most channels allow you to advertise and for a low budget plus your adverts reach your target customer.
You can run competitions to further engage and grow your brand.
Using video, you can go live to your audience and share ideas as well as canvas opinion.
You can monetize your social media channels, for example, using the shoppable options and create your own shop online.
You can link your website and blog (as well as link most of your social media channels together).
Using social media, you can keep an eye on your competition.
We would also suggest that when creating your social media profiles, you develop business profiles.  For that we'd suggest reading up on how to get verified on Instagram here.
Creating a Social Media Strategy
Following deciding on your social media channels, you need to create a social media strategy to grow your business online.  This is a simple document that summarizes your goals and is similar in structure to a business strategy, except it focusses on social media.  Stick to a short document of around 1 to 2 pages and list your goals, along with what you're planning to do to reach your goals.  Keep it brief, you can always expand your information on separate documents for each activity.
The document should span a 3-, 6-, 9- or 12-month period and sit alongside a social media calendar) where you will list activity according to the dates.
Designing Social Media Content
Next, it's about creating content to go alongside your goals.  Don't rush this.  Your content must be engaging, inviting and fun.  Keep it social and make it intriguing.  Your content should always look slick and professional as you want it to reflect your business.  If you need inspiration, check out your competitors' posts. What do they do well and what don't they do well – is there an opportunity for you to capitalize on?  Also look at your favorite social media accounts.  What makes you click on their posts?  Post at sensible times, so don't post in the middle of the night when most of your audience is asleep!
Harness Social Media Features
Every social media platform has features designed to help you elevate your content.  There are emojis, tags, hashtags, stickers, and filters.  Use these to further promote your brand and make your posts even more interesting.
Schedule Your Social Media Posts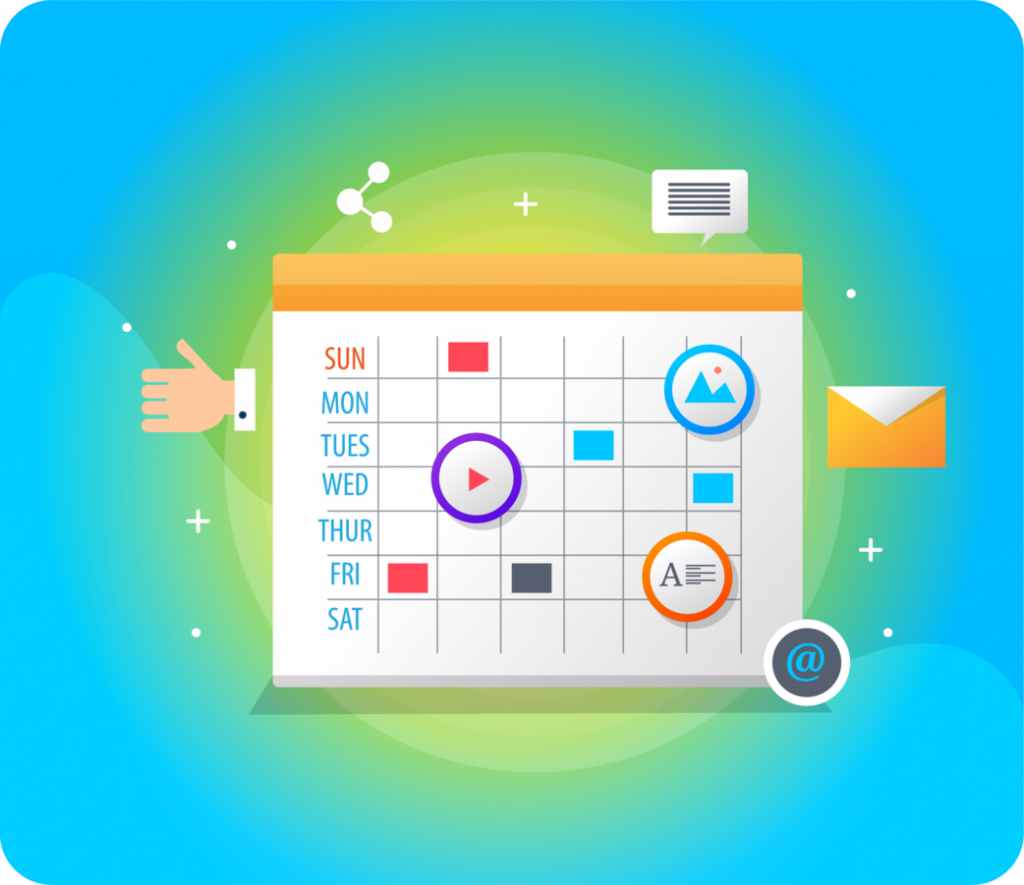 You can also take advantage of the scheduling features available on different platforms and create a series of posts to go live on different days.  Spend an hour a week designing your posts and schedule them in advance to free up your time to concentrate on other areas of your business.  If something crops up in between, you can still post if you want to!
Avoid Over Posting
Don't put off your followers by posting over and over again in quick succession.  Not only is it overkill but you could end up with an account suspension or being shadowbanned.  Post two or three times a day and space out your posts.
Track Your Social Media Performance
Most social media platforms give you access to insights and metrics so you can track your posts' performance.  Keep an eye on these metrics to learn what works well, what gains engagement and what doesn't work well so you can plan your posting more effectively.
Social Media Marketing, The Last Word
Don't forget to tell your customers that you're on social media and encourage them to follow you.  You can do this by sending an email to your database, with the links to your social networks.  Remember, building your presence online through social media takes time to perfect but it's worth it as your audience is out there!